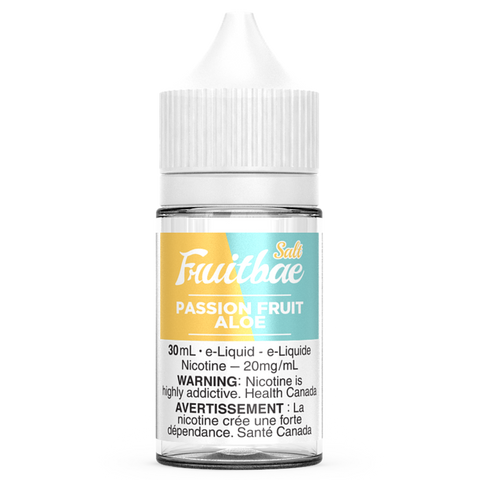 Fruitbae
Passionfruit Aloe Salt
Get ready for a taste sensation like no other with this unique and delicious e-liquid! This e-liquid is the perfect blend of tart and fresh passion fruit, with the mild sweet taste of fresh aloe vera, and a hint of mint to create a flavour profile that's truly unique and delicious.
The combination of passion fruit and aloe vera may sound unusual, but the end result is surprisingly complimentary and delicious. The tartness of the passion fruit is balanced perfectly by the mild sweetness of the aloe vera, creating a flavour profile that's truly one of a kind. The hint of mint only adds to the overall taste experience, providing a refreshing and invigorating flavour.
This e-liquid is unlike anything you've ever tried, and it's a must-try for anyone who loves unique and exotic flavours. The cool and refreshing exhale makes it the perfect choice for those hot summer days or any time you're in need of a fruity and refreshing pick-me-up. Don't miss out on this amazing e-liquid that's sure to impress even the most discerning vaper! Try it today and experience the unique and delicious combination of tarty passion fruit and fresh aloe vera with a hint of mint and a cool exhale.
Flavour Notes:
Fruitbae Salt E-Liquid is NOT intended for use in Sub-Ohm Tank systems. Fruitbae Salt E-Liquid is intended for small pod systems. 
60% VG 40% PG